UbuTricks is a program that helps you install the latest versions of several games and applications in Ubuntu.
UbuTricks is a Zenity-based, graphical script with a simple interface. Although early in development, its aim is to create a simple, graphical way of installing updated applications in Ubuntu 14.04 and later releases.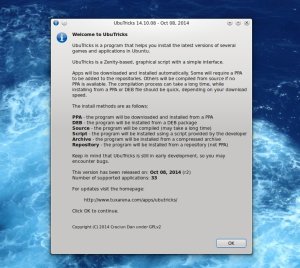 Description
Download
Screenshots
Report Bug or Feature Requests
Latest Changes
UbuTricks will receive updates on a weekly basis, new versions adding new applications and new releases of the ones already included. Ubuntu 14.04 and 14.10 are already supported. Linux Mint currently has a bug in gksudo which doesn't allow adding repositories automatically, so the PPA method doesn't work in Mint, but the programs which are installed using other ways (archives, DEBs, other repositories) should work (on Mint 17).
Description
Applications will be downloaded and installed automatically. Some will require a PPA to be added to the repositories. Others will be compiled from source if no PPA is available. The compilation process can take a long time, while installing from a PPA or DEB file should be quick, depending on your download speed.
The install methods are as follows:
PPA – the program will be downloaded and installed from a PPA
DEB – the program will be installed from a DEB package
Source – the program will be compiled (may take a long time)
Script – the program will be installed using a script provided by the developer
Archive – the program will be installed from a compressed archive
Repository – the program will be installed from a repository (not PPA)
Since UbuTricks is still in early development, bugs may appear and only a small number of applications is available right now. Here is the complete list of applications currently supported by UbuTricks. Some of the installable programs include:
0 A.D.
Battle for Wesnoth (Dev)
SMPlayer
Ubuntu Tweak
Cinnamon
Wine
Geary
Google Earth
Kdenlive
PlayOnLinux
LXQt
QupZilla
UbuTricks currently supports 60 applications, and the goal is to add as many as possible, with installers for not only PPAs or DEBs, but also binaries or archives for various games and updated software.
Download UbuTricks
UbuTricks is available as a graphical script. The latest version is 14.11.17. Below you can download the two latest versions.
Get UbuTricks 14.11.17 – Nov 17, 2014 (Bash Script, 44 KB): Download
Get UbuTricks 14.11.03 (Previous Version) – Download
Previous releases can be downloaded from here.
Once downloaded, make it executable and either double-click the script or run it from the terminal. UbuTricks needs the zenity and gksu packages. To install them use:
sudo apt-get install zenity gksu
Once you run it, you will be able to choose your Ubuntu version, and then a list of applications which can be installed will be shown. Tick the programs which you want installed and hit OK.
Screenshots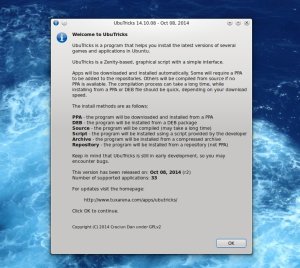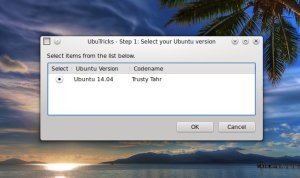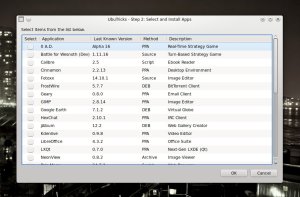 Bugs and Feature Requests
UbuTricks is a small project. As such, you can use the comments below to report bugs, make application suggestions to be included in future versions, or just tell me what you think about this program.
ChangeLog – Last Releases
For the complete changelog, open the script with a text editor and scroll to the end.
v14.11.17 r7 (Nov 17, 2014)
added apps: Exaile, Yarock, GNOME Commander (Trusty), SimpleAudioPlayer, Kid3
added apps: Fotoxx (DEB)
20 updated apps
fixed the Calibre installer
better error handling
added command-line –help and –version arguments
v14.10.22 r5 – Oct 22, 2014
added apps: Audio Recorder, CherryTree, Double Commander, Wine (PPA), Cantata
added apps: Midori, DigiKam, Kchmviewer, PeaZip, VLC (Dev), Emacs
added games: FLARE, FlightGear
updated versions for some apps
added Ubuntu 14.10 in supported releases, some PPAs may not work
improvements for source-based and DEB installers
fixed a bug when selecting two apps with similar names